April 2, 2018
Posted in All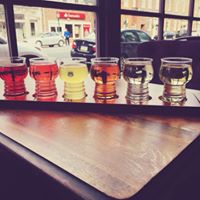 So no one really knows who started beer flights, and now that Grand Illusion is open, our cider flights are becoming wildly popular, often selling them more than traditional pints themselves.
At Grand Illusion, we have a number system and a flight card to fill out. Our taps are all numbered 1-24 and wine,1-4. You go down the list and check which ciders or other draft selections we have to offer and then we make it and return it to you in numerical order.
BUT… for whom it may concern, there is actually a specific way flights are to be consumed so you don't overwhelm or confuse your tastebuds. So next time you come in to order a flight, reorganize your flight board like this if you want to try it out!!
Your first ciders on your board should be your basic ciders made with apples only.
Then onto ciders with other flavors added to them, i.e. spices, hops lavender etc…
After should come barrel aged ciders (often aged in whiskey or bourbon barrels).
Then onto your fruit infused ciders and "cysers" that are fermented with honey or other hybrid ciders. If ever in doubt, ask your server.